14th Annual Joslyn Castle Murder Mystery: A Tasteful Murder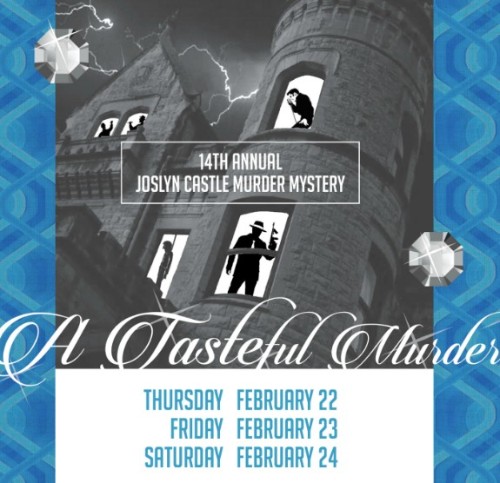 ELVIS HAS LEFT THE BUILDING!
The time is fast approaching to once again answer that infamous question…..WHO DUNNIT?
Mark your calendars to join us for our 14th Annual Murder Mystery -'A Tasteful Murder' on Thursday, February 22nd, Friday, February 23rd, and Saturday, February 24th. The incomparable Joslyn Castle Players will serve up this tasty treat of murder, along with a deadly dose of southern hospitality and charm, as brought to life and death by renowned Murder Mystery writer and director, Colleen Fogarty.     
We're headed back to the 70's for this 'far out' production just as mobsters are booking it 'straight' south.  Pappa Peppe and Senator Sebbie have organized a 'Do Not Whack' order and Tennessee is the destination for these mobsters', turned chefs, new gig. Join us to find out how Elvis-themed Cuisine is the recipe for….murder!!  Can you dig it man?
The Murder Mystery entertains guests with fun and intrigue in the mysterious setting of the Castle by blending great theatrical arts and community engagement with George and Sarah Joslyn's magnificent home.  The program serves as a great way to bring new visitors to the Castle. 
The ticket cost is $75 per person before January 11th, 2018, $85 after, which includes a delicious dinner and this fabulous production. 
Tickets make wonderful holiday gifts, and these performances always sell out, so buy your tickets today. 
Murder Mystery Dinner - 2/24 is SOLD OUT!